Garbage Collection
As part of the 2012 Budget, the City of Chicago transitioned to a grid-based garbage collection system that has increased efficiency and will save over $20 million in operation costs. Please use the interactive map below to determine your garbage pickup day. Please note: garbage collection days vary following snowfall. Streets & Sanitation will not empty garbage carts if they are not accessible due to obstructions (including snow). If your garbage carts are stuck to the pavement with ice, please make your best effort to free the carts. If Sanitation workers are unable to lift the carts, they will not remove the garbage. Residences that receive garbage collection services provided by the Department of Streets and Sanitation will begin paying a garbage service fee of $9.50 per month per dwelling unit.
Recycling
The City of Chicago offers several ways for residents of the 44th Ward to recycle. If your garbage is picked up by the city's Streets & Sanitation department, you can participate in Chicago's Blue Cart Program. With this program, materials no longer need to be sorted in blue bags. All materials to be recycled can go directly into the blue cart. Blue carts will have separate pickup from normal garbage collection, and will be sorted on-site. For more information on the City of Chicago's recycling program, please click here.
NOTE: Recycling pick up will be during the orange weeks in the calendar below.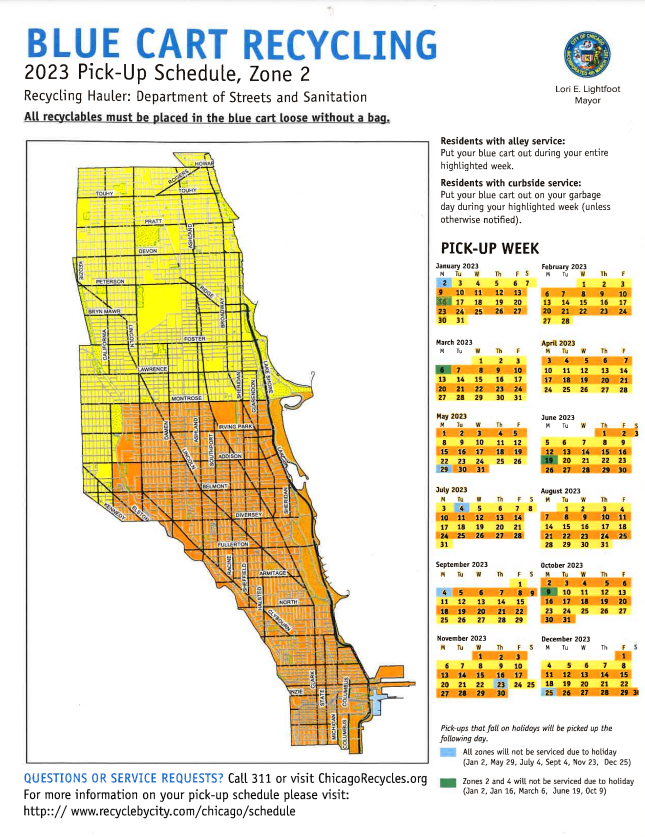 Yard Waste
The City of Chicago coordinates dedicated bagged leaf and other yard waste collection trucks to assist residents in clearing their yards, parkways and storm drains of leaf debris.
Residents can call our office or 311 to request separate yard waste collection.
Yard waste should be left in the alley or at the curb for collection, and bagged separately – not added to the garbage in the black cart or the recycling in blue.
The Department will collect the bags based on 311 requests and take it to be composted.
Yard waste consists of leaves, grass clippings, branches, brush, clippings from shrubbery, and garden waste. Yard waste does not include dirt, rocks, or gravel.
Bulk Pickup
Please note: the City no longer provides bulk pickup services. If you need to dispose of trash in large quantities and will not fit inside of the garbage cart (s), please place the items in the alley next to your garbage cart the night before or the morning of your scheduled pickup day.
City code prohibits obstructing the alley even in cases of garbage disposal. Please do not place large quantities of garbage in the alley.
Fly Dumping
Illegal dumping, or "fly dumping," is the dumping of any waste material on public or private property without a permit. Illegal dumping endangers public health by creating a breeding ground for mosquitoes that may carry the West Nile Virus, attracts rats, poses hazards to children playing nearby and decreases property values.
Trash that is commonly dumped includes:
tires
old furniture, mattresses
construction debris
appliances
yard waste
hazardous waste (generally dumped in drums or barrels)
Clean & Green
The Chicago Department of Streets and Sanitation invites residents and community groups to volunteer to help revitalize their neighborhoods by participating in the Clean and Green citywide beautification effort.
Community groups who wish to participate are asked to identify a worksite and contact 311 to register. The Chicago Department of Streets and Sanitation can provide the brooms, rakes, shovels and bags needed to complete each cleaning project. Individuals who wish to participate can also call 311 to be referred to Clean and Green activities in their area.
Household Chemicals & Computer Recycling Facility
Dispose of your household chemicals responsibly and recycle your old computers by dropping them off at the City's permanent Household Chemicals & Computer Recycling Facility at 1150 N. North Branch Street (two blocks east of the Kennedy Expressway at Division Street).
When thrown out with our garbage, household chemicals and computers, which often contain hazardous substances, such as lead, mercury, and PCBs (polychlorinated biphenyls) can contaminate our air, soil and water. Through proper disposal methods or recycling, these hazardous substances are reprocessed and reused in an environmentally-responsible manner.
The Household Chemical and Computer Recycling Facility accepts a range of items, including household cleaners, oil-based paints, solvents, cell phones, compact fluorescent light bulbs, computers and related equipment to name a few. It does NOT accept business/commercial sector wastes, explosives, fireworks or latex paint.  Please review the full list of items in both categories before you visit.
During business hours, an attendant is outside, ready to help unload your vehicle and accept your materials.  Materials should not be left outside the facility unattended.  Therefore, please do not drop off any items outside of scheduled business hours:
Tuesdays 7 am – 12 pm
Thursdays 2 pm – 7 pm
The first Saturday of every month 8 am – 3 pm